"Botswana is awash in tiny, intimate, and luxurious tented camps, with tents often slang for canvas luxury homes, and at the very top of this heap is Zarafa" – Forbes Magazine
Zarafa Camp is renowned for its remarkable concentration of wildlife, predators in particular, and luxuriously-appointed, quintessential tented accommodation.
The boutique Zarafa Camp has only 4 campaign-style canvas suites offering travelers an authentic taste of Africa. There is a harmony to Zarafa. Perhaps it is the intimate size of the camp, the calming waters of the lagoon or the genuine nature of the local staff who look after you; whatever the case, it is a treasure.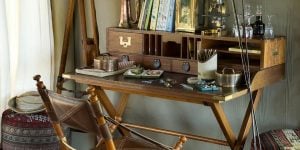 Zarafa Camp located in the Private Selinda Game Reserve, at the world-famous source of the Savute at Zibadianja Lagoon, has been called one of the greatest game viewing regions in the world. Day and Night game drives and safari walks included.
LOCATION
Set within Botswana's private 1,350 km 2 Selinda Reserve, 50 minutes by plane to the southwest of Kasane
RATES
Tents from $1,945 (single) or $2,880 (double) per day, full board and morning and late-afternoon game drives included
ROOMS
Four 1,000 sq. ft. raised canvas tents and one private villa with mesh walls, exposing panoramic views of the lagoon and veranda with plunge pool
STYLE
Zarafa Camp (formerly called Zibadianja) was completely relocated and rebuilt in 2008. It now occupies a scenic setting atop an ancient, slightly raised earth bank, beside the lagoons and floodplains, which stem from the Zibadianja Lagoon
FOOD
Breakfast, brunch, afternoon tea, and dinner are served in the main tent.
Zarafa is the only Relais & Châteaux property in Botswana.
X FACTOR
A particular speciality here are meals taken on a floating pontoon out on the lagoon, accompanied by the local hippos and with the chance of encounters with swimming elephants and other animals. Evening meals are also sometimes served in remote locations in the bush, usually surrounded by trees romantically draped in dozens of lanterns.
BOOK TO PACK
"Botswana Time" by Will Randall
Selinda Reserve ~ Kasane ~ Botswana
Telephone +27 21 434 5208
reservations@greatplainsconservation.com
greatplainsconservation.com